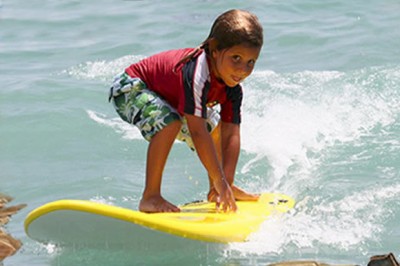 We offer private surfing lessons to help you learn how to surf in a safe and fun environment with professional lifeguard CPR certified surf instructors with 20 years of teaching experience.
Private lessons are given after school and on the weekends and run all year. One student to one instructor is $100.00 – $150.00 per 1½ hour depending on instructor certification level, surfboard included.
For the beginner to advanced surfer:
Learn ocean safety
Ocean awareness
Proper stance
Paddling techniques
Propper pop up
How to cut down the line
Frontside,and backside surfing
Reading waves
Take off timing
Surfing etiquette
Entering and exiting the water
Surfboard anatomy
Surfing terminology surf maneuvers, titles such as off the lips, cutbacks, bottom turns, and more

For advanced students

Learn advanced maneuvering such as aerials, barrels, reverse airs, lip slides, and much more
Contest strategy and confidence building
Real style
Proper board lengths, volumes, and designs for different conditions and wave heights
Reading the waves and ocean knowledge
Surf forecasting
Endurance, strength training, and much more
Level One: $80
CPR & Water Safety Certified
1-5 years teaching experience
5 years of surfing experience
Level Two: $100
CPR, Lifeguard & Water Safety Certified
5-10 years teaching experience
5-10 years of surfing experience
Level Three: $150
CPR, Lifeguard, Water Safety Certified, Waterman Survival Certified & FII Certified
10+ years teaching experience
10+ years of surfing experience
So if you would like to take up surfing for the first time, or advance your level of surfing, whether it be contest surfing or just improving your surfing ability and style, come join us for a beginner or advanced lesson and enjoy the art of surfing.