William Kimball
Professional Surf Instructor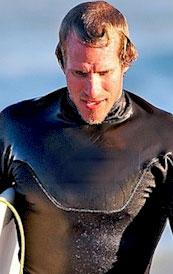 William is a native Floridian raised in Palm Beach County. He has been surfing for over 30 years both locally and internationally. He has been teaching surfing for over 20 years and is an accomplished waterman in all aspects.
His competitive accomplishments include:
2010-2013 Masters Champion PBC ESA
2015 Open Mens Champion PBC ESA
2018 Open Mens Champion EcoPro Surf Series
2018 Masters Pro Champion EcoPro Jupiter
2019 Masters Pro Champion EcoPro Jupiter
2019 Seniors Champion PBC ESA
William was named Citizen of the Year by Town of Juno Beach in 2017.
William founded the Blue Water School of Surfing in 1996 and at that time was the only surf school in Palm Beach County. The school has now grown to be one of the funnest and most prestigious surf schools in the world.
He is CPR and lifeguard certified. His international surfing experiences include such places as Hawaii, Fiji, Maldives, Nicaragua, Costa Rica, Panama, Mexico and the Bahamas to name a few.
His experience with kids is fun and naturally being a big kid himself he makes his students feel confident yet relaxed and respectful of the surfing environment.
William is also an accomplished musician. William traveled and toured with Tom Curren (three time world champion) for three years. William surfed and played in a band with Tom while learning an immense amount of surfing knowledge from a master surfer. He is still in the Tom Curren band as well as his own band, William Kimball and the hit$how. He plays both locally and internationally and writes all his own music and lyrics.  Music and surfing are his way of life and he feels fortunate to be able to share and enjoy both of them with others.
William is currently sponsored by: Vissla, Dragon, YETI, Xcel, Dakine, Nixon, Vertra, Rumaner Surfboards, and Rainbow Sandals.
"I love to surf, as a matter of fact I live to surf being able to pass on the art of surfing has become the greatest accomplishment of my life so far. From seeing students catch their first wave to training them to become Blue Water Warriors and win their first contest. It is an honor, a career, and a way of life that I shall uphold to the highest level for the remainder of my existence."
-William Kimball